Welcome to the Tank Fighter Wiki
Tank fighter is a real-time multi-player action game on Facebook where you can hunt your friends and blow them to smithereens!
Tank Fighter offers many amazing weapons and tanks. Use the flamethrower to roast your enemies, shoot homing missiles at them, or blast each other with the shotgun. Play against other Tank Fighters from around the world in exciting real-time multi-player action.
Please be aware that a lot of the information here is out-dated, especially the numerical data for weapons and tanks. The work to fix that is under way. It will however not be completed until AFTER the upcoming update of the game.
About Tank Fighter
Tank Fighter is an exciting game where you can battle your friends to the death with real-time multi-player action. As you progress throughout the game, roll your tank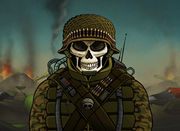 through different maps from ice covered tundras, to dry barren deserts, to the laser-filled landscape of outerspace, each landscape confronting you with different challenges. As you polish your tank fighter skills and reach new levels, unlock new tanks, weapons, and even aliases, to help you reach your goal of becoming the ultimate tank fighter! You can blast your competition in any of the six game modes, whether you want to get personal with your enemy one-on-one with 2P VS Mode or whether you want to increase the number of your targets with 4P Deathmatch. Make sure to check out what each Tank Fighter building has to offer, and keep fighting until you reach the #1 spot!
Gallery
Latest activity
Zenturion
edited by A FANDOM user

| | |
| --- | --- |
| Summary: | /* An elegant yet beastly war machine, this tank was modified by leading arms factories in Bavaria. The superb engine provides incredible speed and improved high-tech defense systems have turned the Zenturion into a steel fortress. This hybrid of ... |
Ad blocker interference detected!
Wikia is a free-to-use site that makes money from advertising. We have a modified experience for viewers using ad blockers

Wikia is not accessible if you've made further modifications. Remove the custom ad blocker rule(s) and the page will load as expected.